chosse area
joboji
Tendai no Yu
A hotel for enjoying a highland getaway with locally-produced dishes for local consumption and unrefined sake
Tendai no Yu was named by Jakucho Setouchi, a Buddhist nun and honorary chief priest of Tendai-ji Temple. It is a quasi-natural thoron hot spring located in the foothills of Mt. Inaniwa-dake. It uses water called "ganshobo" which gushes out of the ground on the mountainside. Please check The hot water of the low-alkali mineral spring includes a good balance of natural minerals. It is said to be effective not only in recovering from fatigue but also for conditions such as back pain, neuralgia and stiff shoulders. Soaking in the big bath while enjoying the view of the highlands from the large picture window has an outstanding healing effect. Tendai no yu is popular as a day trip among regulars from the local area and the suburbs of Hachinohe. A morning soak while admiring the beautiful sea of clouds below is something you can experience only here. Come stay overnight for moments you'll want to relax and enjoy.
One of the pleasures of travel is the food. The hotel offers many dishes using plenty of ingredients such as locally-picked edible wild plants and mushrooms, seasonal vegetables and healthy wagyu beef from Shorthorn cattle. And although Tendai no yu is in the middle of the mountains, the port of Hachinohe is only an hour away by highway, so you'll want to get stuck into the fresh seafood dishes too. The hotel is also located in a special zone for unrefined sake, meaning you can try their homemade "Aya" made from local rice, millet and spring water. In the local dialect, "Aya" is a casual name for "father, like the English "old man". The matching "Appa" ("old lady" or "mother") is the name given to another local specialty, a popular wine made from 100% yama-budo grapes.
Among the guest rooms are Japanese- and Western-style ones in which Jakucho is said to have stayed, which use lacquerware made in Joboji. The rooms may be viewed if unoccupied. There are plenty of local topics at this hot spring.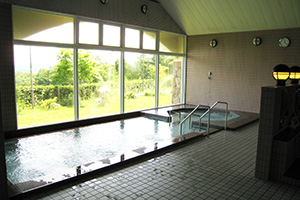 Rooms

14 Japanese-style rooms and 2 Western-style twin rooms
Plans
[When 4 people share one room] Room+2 meals starting at 7,140 yen (per person)
*For long-term stays, please consult hotel staff
Bath fee Adults 500 yen
Message
Hours of operation [bath] 10:00 AM to 9:00 PM
/ [Overnight stay] 3:00 PM to 10:00 AM
Closed on Wednesdays
Location

133 Nogurosawa Jobojimachi, Ninohe City
View Map

nearest station/I.C.

25 minutes by car from Joboji IC, 60 minutes by from Ninohe Station, 15 minutes by car from Joboji

Phone

0195-38-3222

URL
[nearest site Inaniwadake Summit]
Tsutaya Ryokan
A relaxing hotel offering a warm welcome with hometown country cooking
The Tsutaya Ryokan is a Japanese-style inn built on the banks of the clear-running Appigawa River. Nothing is more hospitable than the country cooking using local edible wild plants and the smiling faces of the landlord and landlady as they welcome you. The alcoves with pillars still in the shapes of the trees they came are beuatiful to look at, and the thick beams are reminiscent of traditional buildings. The easy atmosphere of the Tsutaya, where you'll want to sprawl on the tatami floors, is popular with long-term guests and regular patrons.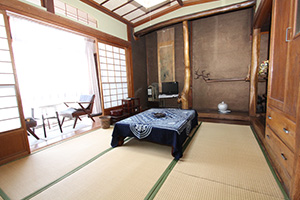 Parking

3 spaces

Rooms

7 Japanese-style rooms

Capacity

19
Plans
Check-in 3:00 PM / Check-out 10:00 AM
Meal included 6,480 yen
Never closed
Location

27 Joboji Jobojimachi, Ninohe City
View Map

nearest station/I.C.

7 minutes by car from the Joboji IC

Phone

0195-38-2326
[nearest site Setouchi Jakucho Memorial hall]