Ogamiiwa Observatory
Rugged but beautiful, the landscape in Ninohe's heart.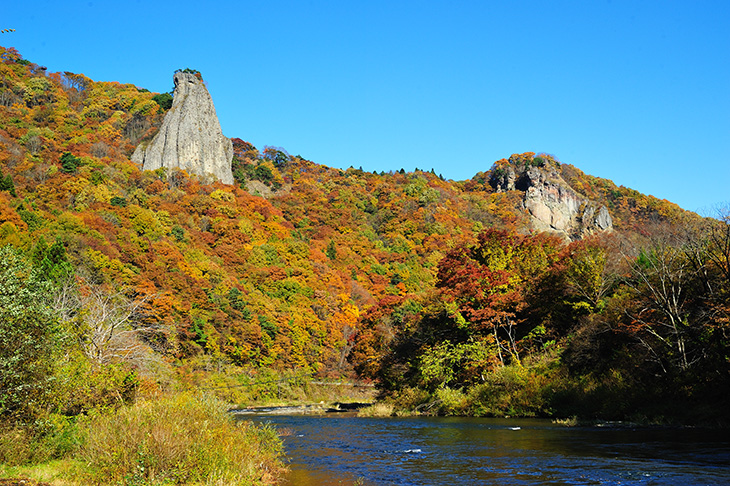 The legend of Meotoiwa (The Married Rocks)
The symbol of Ninohe, Ogamiiwa (God rock) and Megamiiwa (Goddess rock) of Basenkyo. In the canyon of Mabechigawa River, Ogamiiwa is 180 meters high and Megamiiwa is 160 meters high. They are solemn and divine, and the legend of "Meotoiwa (the married rocks)" is loved by the people of Ninohe. This observatory allows you to see them up close.
The view from an altitude of 250 meters.
If you follow the road you will reach the rustic Ogamiiwa Observatory. From this observatory located a little upstream from Ogamiiwa, you can admire the majestic landscape of Ogamiiwa and Megamiiwa up close and in the distance Ninohe city. You can enjoy the view of Basenkyo and Ninohe till your hearts content. In autumn the autumn leaves which can be seen from here are exceptional.
[nature, view]
Ogamiiwa Observatory Information
Address

Ishikiridokoro Ninohe

Name of Office

Ninohe Tourism Association

Phone Number

0195-23-3641

Parking

free