Iwaya Kannondo
Only once every one hundred years can you see the Kannon!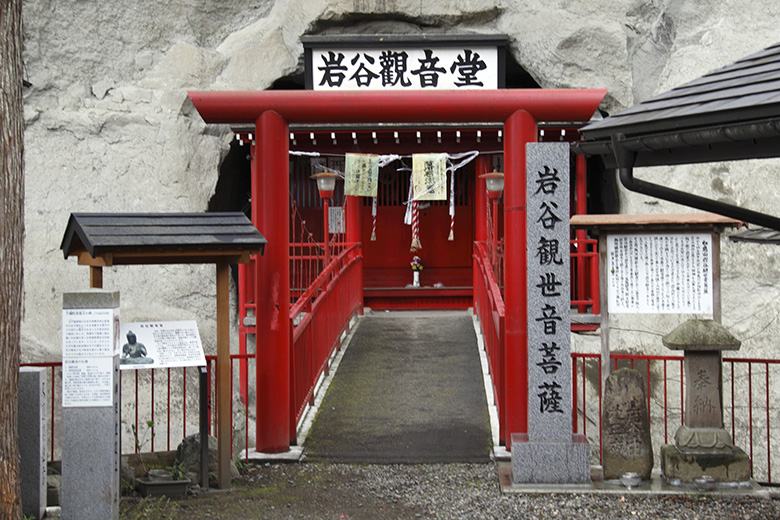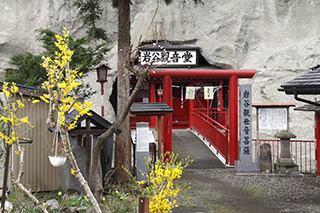 The twenty eighth hallowed ground.
This Iwaya Kannondo is the twenty eighth of the "Okushu Nukanobu Sanjyusansyo Kannon Reijo", which are spread across the south of Aomori Prefecture to Ninohe and Ichinohe. The designation of these thirty three hallowed grounds started at 1512, and Sokuyoshosai holy priest of Hachinohe Tenshoji Temple designated this place as the twenty eighth hallowed ground in 1743.
Only once every one hundred years can the Kannon be seen.
The enshrinement hall of the Iwatani Kannondo is made by digging the stone walls of Shiratorigawa River. To get to the enshrinement hall you need to cross a bridge. According to legends, once upon a time, when the Shratorigawa River over flooded, a Kannon statue was salvaged. This shrine was made to enshrine that Kannon. Today a statue of Eleven Faced Kannon Bodhisattva and Amitabh are housed. The enshrinement hall is sealed with red doors and only allowed to open every one hundred tears.
[shrine]
Iwaya Kannondo Information
Address

Jounosoto Fukuoka Ninohe

Name of Office

Ninohe Tourism Association

Phone Number

0195-23-3641
Nearest Charger for EV

Ninohe General Sports Center (22-20 Azaniwatari Ishikiridokoro Ninohe)

Nearest Public Transport

Hachimanshita Bus Stop (JR Bus, North Iwate Bus)

Nearest Hotel

Ninohe Park Hotel